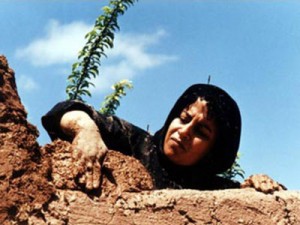 Iran, 105 minutes
Dir: Kambozia Partovi
Reyhan is the mother of two young children, living in a small town in northern Iran near the Turkish border. When her husband dies, his brother Nasser is eager to take over the family by marrying Reyhan and raising her children in accordance with tradition.
Right after her husband's funeral, the elder women in the family urge Reyhan to shed her black mourning robes so that she can marry Nasser and welcome him into her bed. But Reyhan respectfully rebuffs their urgings, saying she is not ready.
Though Nasser expresses a sincere sense of duty toward his brother's widowed family, he becomes enraged when Reyhan repeatedly asserts her independence by refusing to live with him, and then resurrects her late husband's run-down roadside cafe. When Reyhan's culinary skills attract a loyal and growing following, including one very admiring Greek truck driver, she threatens not only Nasser's own restaurant business, but his manhood. Irate, he launches a relentless campaign to strip her of her livelihood and her independence. Border Café is a complex portrait of the roles of women and men in modern Iran.
Released as Part of The Global Lens Collection, available here.
Please note: if no air times are listed, this program is currently not scheduled. Please check back again in the coming weeks.
LEARN MORE: 
To learn more about this film, visit The Global Film Initiative.
About CINEMONDO:
Link TV's CINEMONDO is a nationally broadcast, ground breaking world cinema series hosted and co-curated by Peter Scarlet, Artistic Director, Tribeca Film Festival (2003-2008), now Executive Director of the Middle East International Film Festival. CINEMONDO brings international cinema with great artistic, cultural and political value to the living rooms of Link TV's American audiences.